Doctor Strange in The Multiverse o Madness - The Loop
Play Sound
Just when Tai and his friends thought they had finally defeated the enemy in the fake Tokyo, a new enemy appeared. The children work together with their Digimon to take down the eight-headed Ultimate Digimon.
Summary
Featured Characters
(Numbers indicate order of appearance. Bolded characters are fought by the protagonist(s), and italicized characters feature non-explicitly, e.g. voice, silhouette, image.)
Digivolutions
DigiAnalyzer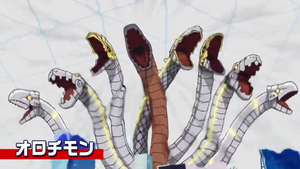 Orochimon
Digimon Encyclopedia
Birdramon
Level:
Champion
Type:
Giant Bird
Attack:
Meteor Wing
Birdramon. This Digimon evolves from Piyomon. Meteor Wing is a powerful special move. The attack shoot burning feathers at the enemy!
Other notes