What could possibly be wrong with gaining knowledge and information?
---
This article is a stub and is missing information.
You can help DigimonWiki by expanding it.
Submarimon
(サブマリモン Sabmarimon)
Voice actor(s):
(Ja:) Aiko Hibi
Partner(s):
Mizuki
Gender
Female

Submarimon is Mizuki's Partner.

Appearance
Description
The Great Undersea Adventure! Search for the Treasure Digimon of Dreams!

Attacks
Oxygen Homing: Discharges super-compressed oxygen.
Other Forms
XrosUpSabmarimon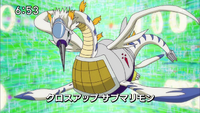 XrosUpSabmarimon is the DigiFuse of Submarimon and Plesiomon.
Attacks
Notes and Refences
Community content is available under
CC-BY-SA
unless otherwise noted.