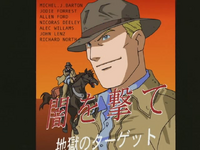 Shoot the Darkness (闇を撃て, Yami wo Ute?), titled Shoot the Darkness: Hell's Target (闇を撃て 地獄のターゲット, Yami wo Ute Jigoku no Tāgetto?) in the Japanese version[1], is a movie in Digimon Adventure 02.
Cast
Jodie Forest
Allen Ford
Nicoras Deeley
Alec Willams
John Lenz
Richard North
Fiction
Notes and references
↑ Digimon World Tour, Pt. 1 In the American English dub, the "Hell's Target" subtitle is removed from the poster, despite the logo being kept in Japanese. The movie's title is never spoken by any character.