Lopmon is Chihiro Tsukimori's Partner.
Appearance
Description
Fiction
Chihiro Tsukimori finds Lopmon alone outside her Truffle cafe. Lopmon has been looking for its missing partner. Chihiro decides to help Lopmon find its partner. They find Lopmon's partner, who turns out to be a Terriermon, after which, Lopmon decides to become Chihiro's partner Digimon.
Other Forms
Antylamon (Good)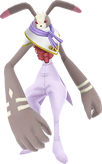 Antylamon (Good) is Lopmon's Ultimate form. When fighting alongside her "partner" Terriermon against a Goblimon and Raremon, the duo Warp Digivolve to Antylamon and Rapidmon and defeat them with the help of a Minervamon.

Notes and references
Community content is available under
CC-BY-SA
unless otherwise noted.