What could possibly be wrong with gaining knowledge and information?
---
This article is a stub and is missing information.
You can help DigimonWiki by expanding it.

Hawkmon is one of the main characters in Digimon Battle Frontier.
Appearance
Hawkmon is a small bird-like Digimon with red feathers and large yellow feet. His wings each have three digits,and he can use them like fingers. He has clear blue eyes, and wears a belt around his forehead. On the back of his head, secured by the belt, is a feather given to him by Garudamon.

Attacks
Feather Strike (Feather Slash)
Other Forms
Garudamon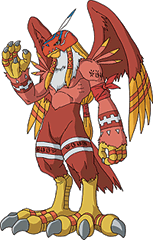 Garudamon is Hawkmon's digivolved form.
Attacks
Wing Blade (Shadow Wing): Uses his wings and blazes up and a magical bird fires on his opponent.
Community content is available under
CC-BY-SA
unless otherwise noted.