Elecmon is Keito Tamada's Partner.[2]
Appearance
Description
Attacks
Thunder Cloud[3]: (Sparkling Thunder): Shoots electric bolts from its tails.
Fiction
Other Forms
Leomon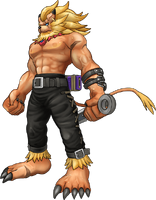 Leomon is Elecmon's Champion form.
Multiple Digital Points appear all over the City at once, so the group split up to deal with them at once. Keito and Elecmon team up with the Protagonist and Herissmon and go to the Digital Point in Nozomi Tamada's Elementary School. Parent-Teacher conferences were happening that day, so Keito was worried about his family. This causes Elecmon to be jealous of Keito's family, with Elecmon assuming that Keito doesn't care about him. Elecmon is about to leave, though Herissmon and the Protagonist break up the fight. Whilst Elecmon and Herissmon fight in the Digital Point, they notice a Numemon Spiral expanding the Digital Point in an attempt to swallow up the school, with Keito not sure on how they're supposed to save both the school and the innocent bystanders being attacked by other Spirals. Elecmon gives Keito courage, which causes Keito to run into the way of an attack when more Numemon Spiral surround Elecmon. This angers Elecmon, though when Keito states he did it because Elecmon is his partner, Elecmon digivolves to Leomon and defeats the Numemon Spirals with "Fist of the Beast King", reverting the school back to normal.
When Tyrannomon goes on a rampage in a Digital Point Elecmon digivolves to Leomon to help defeat the Spirals. Tyrannomon takes no damage from the attacks of Reppamon, and Dorugamon appears and protects Reppamon by attacking Tyrannomon with "Cannonball", after which Dorugamon fights Tyrannomon, whilst Reppamon, Leomon, Gatomon, Agumon, and Herissmon fight the Spirals. Even more and more Spirals appear, overwhelming the group. Agumon senses the courage between Herissmon and the Protagonist which causes Agumon to digivolve to Greymon, and Leomon helps the others clear the path to Tyrannomon so that Greymon can try and talk to it, but it doesn't work as Tyrannomon attacks Greymon as he tries to reason with his friend. After defeating most of the Spirals, the Champion level Digimon help out Greymon, and they come to the conclusion that they will have to kill Tyrannomon to stop its rampage, though Greymon is able to talk them into giving him one more chance to talk to Tyrannomon. As Greymon and Tyrannomon fight, Tyrannomon attempts to digivolve which causes the remaining Spirals to resonate, and their dark energy cause Tyrannomon to dark digivolve to SkullGreymon.
Whilst the other Champion level Digimon fought against SkullGreymon, Leomon fought against the Sprial. Following the digivolution of Herissmon to Filmon all the Spiral freeze in place, which allows Leomon to join the rest of his friends in fighting SkullGreymon. Whilst the group of Champion level Digimon fight against SkullGreymon, Agumon digivolves into MetalGreymon and kills SkullGreymon, ending the Digital Point. The group then hope they can meet Tyrannomon again once its reborn.
Attacks
Fist of the Beast King (

獣王拳

Jūouken

?

, lit. "Beast-King Fist"): Chokes the life out of the opponent with its ultimate mystery, by launching an aura in the shape of a lion's head from its fist.
GrapLeomon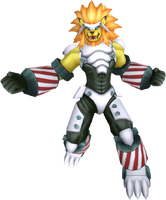 GrapLeomon is Elecmon's Ultimate form.
Notes and references
↑

[] Digimon ReArise: Character profile - Keito and Elecmon

Introducing characters that appear in #DigimonReArise!
[Character & Digimon 3]
Keito Tamada
A shy college freshman. When Elecmon appeared before him, he got startled and ran away. What awaits him after that...?
Elecmon
It is a bit spoiled and has the habit of hiding on Keito's shadow.
#Digimon #DigiRise

#デジモンリアライズ の登場キャラを紹介!
【登場人物その3】
玉田彗斗(たまだけいと)
シャイで照れ屋な大学1年生。目の前に現れたエレキモンに驚いて逃げてしまった彼。その先に待ちうける出来事とは…?
エレキモン
少し甘えたところがありケイトの陰に隠れる癖がある。
#デジモン #デジライズ

Source

↑ This attack is also named "Lightning Spark" in Leomon's Determined Fist! [11]
Community content is available under
CC-BY-SA
unless otherwise noted.