Dorumon is Takumi Hiiragi's Partner.[2]
Appearance
Description
Attacks
Metal Cannon: Stands still and accumulates power, then fires a more powerful iron sphere from its mouth.
Dash Metal: Fires an iron sphere from its mouth while charging.
Fiction
Other Forms
Dorugamon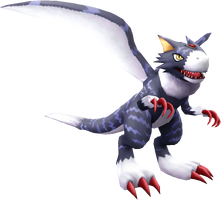 Dorugamon is Dorumon's Champion form. Dorumon digivolves to Dorugamon when fighting a Spiral Frigimon and defeats it with Power Metal.
When the Protagonist and Herissmon get trapped in a Digital Point, Michi Shinjo asks Chihiro Tsukimori for help, and Chihiro sends Dorumon and Takumi. After digivolving to Dorugamon and breaking into the Digital Point with "Cannon Ball", the duo instead find Mayu Kohinata and Kudamon. Dorugamon and Kudamon then team up to defeat some Spirals, followed by Salamon arriving and helping to defeat the rest, saving the Protagonist and Datamon. The group are then ambushed by more Spiral, but are able to defeat them, freeing the group from the Digital Point.
When the Truffle Cafe is overcome by a Digital Point, the group of tamers fight against the Spirals in an attempt to return the cafe back to normal. They split into teams, with Takumi, the Protagonist, and Mayu Kohinata being one group. Mayu wallows in self pity about her usefulness, causing a Wizardmon spiral to attack her, and Dorumon digivolves to Dorugamon and defeats it to protect her. Dourgamon then fights other Spirals alongside the newly digivolved Reppamon to return the cafe back to normal.
Later multiple Digital Points appear all over the City at once, so the group split up to deal with them at once, with Takumi and Dorugamon going to the one in the station, and defeat all the Spirals, turning the park back to normal.
When Tyrannomon goes on a rampage in a Digital Point and takes no damage from the attacks of Reppamon, Dorugamon appears and protects Reppamon by attacking Tyrannomon with "Cannonball", after which Dorugamon fights Tyrannomon, whilst Reppamon, Leomon, Gatomon, Agumon, and Herissmon fight the Spirals. Even more and more Spirals appear, overwhelming the group. Agumon senses the courage between Herissmon and the Protagonist which causes Agumon to digivolve to Greymon, and Dorugamon helps the others clear the path to Tyrannomon with "Power Metal" so that Greymon can try and talk to it, but it doesn't work as Tyrannomon attacks Greymon as he tries to reason with his friend. After defeating most of the Spirals, the Champion level Digimon help out Greymon, and they come to the conclusion that they will have to kill Tyrannomon to stop its rampage, though Greymon is able to talk them into giving him one more chance to talk to Tyrannomon. As Greymon and Tyrannomon fight, Tyrannomon attempts to digivolve which causes the remaining Spirals to resonate, and their dark energy cause Tyrannomon to dark digivolve to SkullGreymon.
During the battle, SkullGreymon defeats Greymon with "Oblivion Bird" and reverts Greymon back to Agumon. Dorugamon, Reppamon, Gatomon fight back, and eventually, Herissmon digivolves to Filmon, which also causes the Spiral to freeze, which allows Leomon to join the fight. As the group of Champion level Digimon fight SkullGreymon, Agumon rejoins the fight and then once again digivolves to Greymon, only this time Greymon is able to digivolve a second time, and digivolves to MetalGreymon, after which it kills SkullGreymon after using "Mega Claw" followed by "Giga Destroyer", which ends the Digital Point. The group then hope they can see Tyrannomon again one day once it's reborn.
Attacks
Power Metal: Stands still and accumulates power, then fires a large, more powerful iron sphere from its mouth.
Cannonball: Fires a large iron sphere from its mouth while charging.
DoruGreymon
DoruGreymon is Dorumon's Ultimate form.
Gaiomon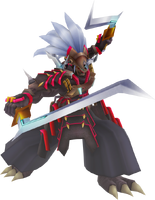 Gaiomon is Dorumon's Mega form. DoruGreymon digivolves to Gaiomon whilst fighting Chaosdramon, then kills the Chaosdramon.
Notes and references
↑

[] Digimon ReArise: Character profile - Takumi Hiiragi and DORUmon

Introducing characters that appear in #DigimonReArise!
[Character & Digimon 1]
Takumi Hiiragi
A 12th grader of few words, he has a mood that draws other people close to him.
DORUmon
Takumi's Partner Digimon. It is earnest and has a strong sense of "For Takumi's sake". #DigiRise #Digimon

#デジモンリアライズ の登場キャラを紹介!
【人物&デジモンその1】
柊拓己(ひいらぎたくみ)
他人を寄せ付けず近寄りがたい雰囲気を持つ、口数の少ない高校3年生。
ドルモン
拓己のパートナーデジモン。ひたむきさを持ち「タクミのために」という気持ちが強い。#デジライズ #デジモン

Source
Community content is available under
CC-BY-SA
unless otherwise noted.