Cobra Kai Season 4 - The Loop
Play Sound
Dorumon is Kōta Doumoto's Digimon partner.
Description
Digimon Chronicle
Digimon Chronicle X
Dorumon, Yūji, Kōta Doumoto, Ryudamon, Omnimon X, and Gallantmon X all disappeared for a long time following the defeat of Dexmon, and even their fellow Royal Knights and King Drasil had no clue as to the whereabouts of the missing Royal Knights. To the Death The group had been travelling all over the Digital World to try and help stop the discrimination against X-Antibody Digimon, with some of the Digimon they befriended being Hououmon X, Justimon X, Seasarmon X, and the Celestial Digimon. The Power Convened by the Boys
During the battles between the Royal Knights and Seven Great Demon Lords the group are able to sense that the Demon Lords had been causing trouble, so they round up all of the friends they had made during their travels and join the battle. Kōta and Yūji arrive to the battlefield on the backs of Alphamon and Ouryumon, whilst also bringing Omnimon X and a massive amount of good Digimon to help even out the large evil army of the Demon Lords. The good Digimon army then attack the evil Digimon army. Kōta and Yūji After Jesmon GX kills Ogudomon X, Alphamon disappears again. Final Chapter
Other forms
Dorugamon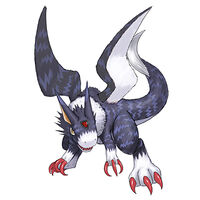 Dorugamon is Dorumon's primary Champion form.

Reptiledramon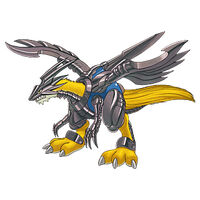 Reptiledramon is Dorumon's secondary Champion form.
Later, Dorumon digivolves to a Reptiledramon and is attacked by a horde of Kuwagamon and Okuwamon led by GrandisKuwagamon. He digivolves to Grademon to protect Kōta.

DoruGreymon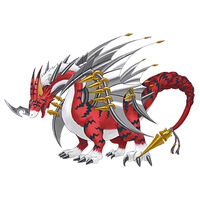 DoruGreymon is Dorumon's primary Ultimate form.

Grademon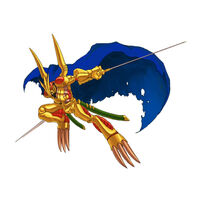 Grademon is Dorumon's secondary Ultimate form.

Dorugoramon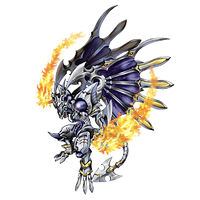 Dorugoramon is a Mega form that Dorumon attains. He fights and defeats Omnimon of the Royal Knights. Omnimon however becomes Omnimon X and overpowers him. This causes him to dark slide evolve into DexDorugoramon.

DexDorugoramon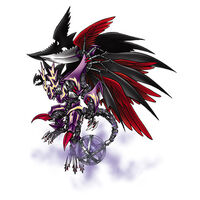 After being defeated by Omnimon X, Dorugoramon dark slide evolves into DexDorugoramon.

Dexmon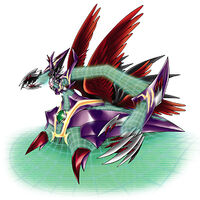 Alphamon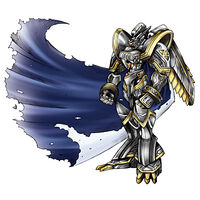 Alphamon is another of Dorumon's Mega forms.
Ten years after the defeat of Dexmon, during the battles between the Royal Knights and Seven Great Demon Lords, Ouryumon, Yūji Musha, Kōta, Alphamon, and Omnimon X join the battle between the Royal Knights and Seven Great Demon Lords whilst also bringing a massive amount of good Digimon to help even out the large evil army of the Demon Lords. The good Digimon army then attack the evil Digimon army. Kōta and Yūji After Jesmon GX kills Ogudomon X, Alphamon disappears again. Final Chapter
Alphamon Ouryuken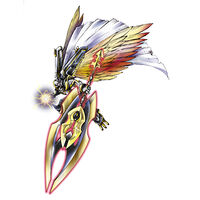 Alphamon Ouryuken appears when Alphamon and Ouryumon combine their powers to become stronger in order to defeat Dexmon. Digimon Chronicle
Ten years later, Alphamon and Ouryumon once again fuse together into Alphamon Ouryuken to fight the seven Seven Great Demon Lords sword wielding Diaboromon X alongside the other members of the Royal Knights. The seven Diaboromon then fuse together into Ogudomon X Desperate Effort, and during the fight Alphamon Ouryuken, Omnimon X, and Gallantmon X fail in a suicidal attack against Ogudomon X. New X-Evolution / Final Battle As Jesmon GX struggles against Ogudomon X, the Royal Knights send the last of their remaining power to Jesmon GX, who uses it to kill Ogudomon X, though the Demon Lords escape back to the Dark Area. Final Chapter

Notes and References