Wiki Targeted (Entertainment)
Play Sound
Featured Characters
(Numbers indicate order of appearance. Bolded characters are fought by the protagonist(s), and italicized characters feature non-explicitly, e.g. voice, silhouette, image.)
DigiAnalyzer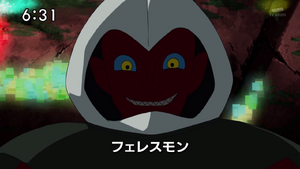 Phelesmon
Digimon Introduction Corner
Phelesmon
Type: Fallen Angel
Special Moves
Black Statue
Demon's Shout
Clockmon: "Phelesmon! A Fallen Angel Digimon who holds a pitchfork!"
Old Clock Shop Man: "His special attack Black Statue turns his opponents into black statues!"
Mikey: "DigiXros with Starmonz! DigiXros!"
Phelesmon: "My pitchfork has powered up... But it's so pointy I can't hold it anymore."
Gumdramon: "There's no point to the damn thing then!"
Other notes
Animation errors
When Shoutmon uses his "Soul Crusher", the "v" on the top of his head is the length as it before Hunters.

Miscellaneous trivia
When Arresterdramon uses his "Prism Garret" attack his animation is a mix from a scene from the intro and his battle with MetalTyrannomon.