Diaboromon makes a return to the net, and the DigiDestined are quick to act, unaware that Diaboromon has a couple more tricks up his sleeve since their last encounter.
Synopsis
Three months after MaloMyotismon's defeat, the DigiDestined go up against Diaboromon again. Tai and Matt head back to the Internet to deal with him with Omnimon, while the younger DigiDestined go to deal with the rampage of a swarm of Kuramon (Diaboromon's Fresh form). With the help of Angemon and Angewomon (with T.K. and Kari), Omnimon was able to destroy Diaboromon again, but it turned out to be a trap, as his destruction allowed many more Kuramon to go to the Real World. This also trapped Omnimon, Angemon and Angewomon within the internet. Things go out of control when the Kuramon in the Real World merge to create a Mega level called Armageddemon, a more powerful and invincible Mega in Diaboromon's evolutionary line. It is so powerful that neither Omnimon nor Imperialdramon Fighter Mode are able to defeat it on their own even. In the end, Imperialdramon Fighter Mode is injured in Armageddemon's counterattack, so Omnimon lends him his power in the form of the Omni Blade, powering the dragon warrior up to Paladin Mode. Using his Omega Blade attack, Imperialdramon Paladin Mode is able to strike down Armageddemon, splitting his head in half and causing him to revert back into the Kuramon. With the help of the energy from the DigiDestined Digivices and the cell phones from the other kids of Japan, the Omega Blade powers up and sends all of the Kuramon back to the Digital World.
Cast
English
Featured characters
(Numbers indicate order of appearance. Bolded characters are fought by the protagonist(s), and italicized characters feature non-explicitly, e.g. voice, silhouette, image.)
Digivolutions
(Number indicates order of occurrence.)
Quotes
Other notes
Continuity errors
Dubbing changes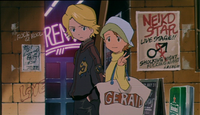 Digimon references
Miscellaneous trivia
Notes and references
Community content is available under
CC-BY-SA
unless otherwise noted.