What could possibly be wrong with gaining knowledge and information?
---
This article is a stub and is missing information.
You can help DigimonWiki by expanding it.
Digimon Adventure: Song and Music Collection Ver.1 (デジモンアドベンチャー 歌と音楽集 Ver.1) is a soundtrack album containing music from the Japanese version of Digimon Adventure.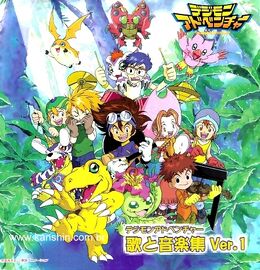 CD Data
| | |
| --- | --- |
| Catalog Number | NECA-30001 |
| Format | CDA |
| Release Date | July 23, 1999 |
| Price | ¥ 3,000 |
Track listing
| # | Title | Artist | Length |
| --- | --- | --- | --- |
| 1 | Butter-Fly (TV Size) (Butter-Fly (TVサイズ)) | Kouji Wada | 1:38 |
| 2 | Avant | Takanori Arisawa | 0:31 |
| 3 | Sub Title | Takanori Arisawa | 0:11 |
| 4 | Adventurer ~Taichi's Theme~ | Takanori Arisawa | 2:39 |
| 5 | Straight From The Heart ~Sora's Theme~ | Takanori Arisawa | 1:48 |
| 6 | Run With The Wind ~Yamato's Theme~ | Takanori Arisawa | 1:39 |
| 7 | Digital Scratch! ~Koushiro's Theme~ | Takanori Arisawa | 1:32 |
| 8 | Sweet Innocent ~Mimi's Theme~ (From "Itsudemo Aeru kara") | Takanori Arisawa | 1:22 |
| 9 | Blue Faith ~Joe's Theme~ | Takanori Arisawa | 1:12 |
| 10 | Little Brightness ~Takeru's Theme~ | Takanori Arisawa | 1:29 |
| 11 | Us, Digimon!! | Takanori Arisawa | 1:31 |
| 12 | We are Always | Takanori Arisawa | 1:09 |
| 13 | Bad Presentiment | Takanori Arisawa | 1:20 |
| 14 | Extraordinary Situation!! | Takanori Arisawa | 1:32 |
| 15 | Extended Fear | Takanori Arisawa | 1:14 |
| 16 | Fearful Footsteps | Takanori Arisawa | 1:19 |
| 17 | Dark Machinations | Takanori Arisawa | 1:16 |
| 18 | Eye Catch | Takanori Arisawa | 0:12 |
| 19 | Theme of Evil | Takanori Arisawa | 1:56 |
| 20 | Sorrow | Takanori Arisawa | 1:51 |
| 21 | Evil Shows Up | Takanori Arisawa | 1:13 |
| 22 | Confrontation | Takanori Arisawa | 1:06 |
| 23 | Despair | Takanori Arisawa | 1:20 |
| 24 | Attack! and... | Takanori Arisawa | 1:17 |
| 25 | brave heart (TV Size) | Ayumi Miyazaki | 2:06 |
| 26 | Desperate Struggle | Takanori Arisawa | 1:34 |
| 27 | Victory ~ Theme of Virtue | Takanori Arisawa | 1:28 |
| 28 | Friendship ~ Theme of Fight (From "Seven") | Takanori Arisawa | 1:30 |
| 29 | Happy End | Takanori Arisawa | 1:16 |
| 30 | I wish (TV Size) | Ai Maeda | 1:40 |
| 31 | Preview | Takanori Arisawa | 0:34 |
| 32 | Butter-Fly (Movie Size) | Kouji Wada | 1:04 |