Jurassic World: Dominion Dominates Fandom Wikis - The Loop
Play Sound
Digimon Adventure: Last Evolution Kizuna
(デジモンアドベンチャー LAST EVOLUTION 絆)
Director:

Tomohisa Taguchi

Producer:

Yosuke Kinoshita

Studio:

Toei Animation

Original run:
(Ja:) February 21,

2020


(En:) September 29,

2020
Digimon Adventure: Last Evolution Kizuna (デジモンアドベンチャー LAST EVOLUTION 絆, Dejimon Adobenchā LAST EVOLUTION Kizuna?, lit. "Digimon Adventure LAST EVOLUTION Bond) is a sequel to Digimon Adventure tri. that premiered in Japanese theaters on February 21, 2020. A dubbed/subbed version was released digitally September 29, 2020.
On May 28, 2018, the original Director of Digimon Adventure and Digimon Adventure 02, Hiroyuki Kakudo revealed he had quit the staff of Digimon Adventure: Last Evolution Kizuna after something was approved that he claimed was incompatible with what the previous series had established.[1] On September 20, 2020, Producer Yosuke Kinoshita stated that Digimon Adventure: Last Evolution Kizuna is in continuity with Digimon Adventure, Digimon Adventure 02, Digimon Adventure 02: Digimon Hurricane Landing!!/Transcendent Evolution!! The Golden Digimentals, and Digimon Adventure tri.. This included the end of the final episode of 02, set in 2028, where the DigiDestined are adults.[2]
It is followed up by the Untitled Digimon Adventure 02 movie.
Characters
Development
The official website for the Digimon Adventure movie revealed the character visuals for two characters for the upcoming film, 22-year-old Digimon Adventure and Digimon Adventure tri. protagonist Taichi "Tai" Kamiya (left image below), as well as Yamato "Matt" Ishida (right image below) as part of the 2018 Digimon Thanksgiving event.[3]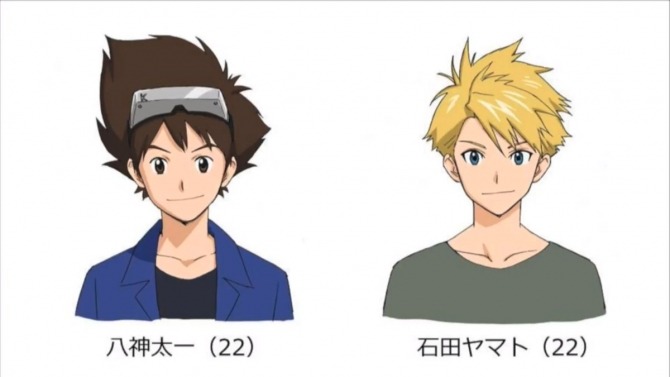 The new film project is part of the overall 20th anniversary celebration of the franchise.
Hiromi Seki, Toei Animation's original producer for the Digimon anime projects, is serving as the supervisor of the new film project. Katsuyoshi Nakatsuru is also returning from the first Digimon anime projects as the new film project's character designer. Kenji Watanabe is designing the Digimon monsters for the new project, as he has done for the previous Digimon projects.[3] In the February 2019 V Jump, released in December 2018, the DigiDestined's designs were shown off.
Bandai announced on March 5, 2019 that the movie would air in Spring 2020.[4] It was also announced the main cast from Digimon Adventure tri. would reprise their roles for the movie.[5]
Development for Last Evolution Kizuna started in 2017, whilst Digimon Adventure tri. was in the middle of airing. It was made as the staff realised the Digimon Adventure series was the most popular part of the Digimon franchise as a whole after the positive reception to Adventure tri., so they decided to make another Adventure movie for its 20th anniversary.[6]
Release
Last Evolution Kizuna was shown on Japanese theaters starting February 21, 2020. An English-subtitled screening was scheduled for March 25 in the United States[7], but was cancelled due to the COVID-19 pandemic.[8] A dubbed/subbed release was set to release direct-to-video on July 7, 2020[9] but was delayed indefinitely on May 9 due to a production delay.[10] Last Evolution Kizuna will be released in Japan on DVD and Blu-Ray on September 2, 2020, and will include a Drama CD.[11] The dubbed/subbed version will release digitally on September 29, 2020, and on Blu-Ray/DVD on October 6, 2020.[12]
Related media
OVA
Novelizations
Credits
Director:

Tomohisa Taguchi

Screenplay:

Akatsuki Yamatoya

Supervisor: Hiromi Seki
Character design: Katsuyoshi Nakatsuru
Digimon character design: Kenji Watanabe
Animation character design:

Seiji Tatsuka

,

Tetsuya Kumagai

,

Rie Nishino

,

Takaaki Sekizaki

Music:

Harumi Fuuki

Chief animation director:

Seiji Tatsukawa

Prop design:

Hiroumi Yoshida

Art director:

Eiji Iwase

Concept art:

Tsukasa Ohira

Color designer:

Saori Goda

Photography director:

Tetsuya Kawata

Editing:

Kentaro Tsubone

Sound director:

Satoki Iida

Sound effects:

Yuji Furuya

Audio recording:

Satoru Matsuda

Animation producer:

Atsushi Urushiyama
Cast
All voices actors are sourced to the the Movie's credits, unless stated otherwise.
All voices actors are sourced to the the Movie's credits, unless stated otherwise.
Gallery
Promotional art
Featured characters
(Numbers indicate order of appearance. Bolded characters are fought by the protagonist(s), and italicized characters feature non-explicitly, e.g. voice, silhouette, image.)
Digivolutions
(Number indicates order of occurrence.)
Quotes
Agumon: Polly want a cracker?

—Agumon quotes Tai from 15 years ago
Agumon: You know Tai, you sure have gotten big.

—Tai's all grown up.
Kyotaro: I can see why you were mistaken, it's the haircut.

—Kyotaro isn't surprised Matt thought he was evil.
Agumon, Gabumon, Tai, and Matt: This is going to be our, final digivolution!"

—Agumon and Gabumon digivolve for the last time.
Agumon: Hey, Tai?
Gabumon: Hey, Matt?
Agumon: What will you do-
Gabumon: -tomorrow?"

—Agumon and Gabumon's final words.
Other notes
Animation errors
Dubbing changes
Digimon references
Real-world references
Miscellaneous trivia
This is the first time an American English dub has used the Japanese opening theme song. All previous seasons and movies use localised songs.
When Yolei talks to Matt about Kyotaro's laptop being suspiciously empty, she is looking at the operating system partition which has only used 2.41 MB. It is highly unlikely any modern operating system, especially one that closely resembles Windows 10, would use that little space.
Notes