What could possibly be wrong with gaining knowledge and information?
---
This article is a stub and is missing information.
You can help DigimonWiki by expanding it.

This article needs your LOVE

---
What's needed: sources. Any sources
Digimon Adventure: Last Evolution Kizuna (デジモンアドベンチャー LAST EVOLUTION 絆, Dejimon Adobenchā LAST EVOLUTION Kizuna?, lit. "Digimon Adventure LAST EVOLUTION Bond) is a sequel to Digimon Adventure tri. that premiered in Japanese theaters on February 21, 2020. A dubbed/subbed release will release digitally on September 29, 2020.
Characters
Development
The official website for the Digimon Adventure movie revealed the character visuals for two characters for the upcoming film, 22-year-old Digimon Adventure and Digimon Adventure tri. protagonist Taichi "Tai" Kamiya (left image below), as well as Yamato "Matt" Ishida (right image below) as part of the 2018 Digimon Thanksgiving event.[1]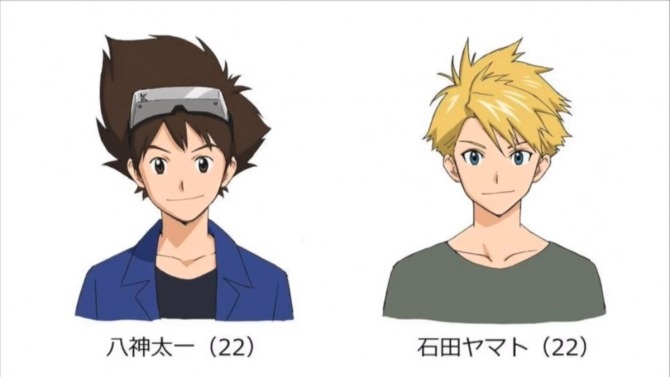 The new film project is part of the overall 20th anniversary celebration of the franchise.
Hiromi Seki, Toei Animation's original producer for the Digimon anime projects, is serving as the supervisor of the new film project. Katsuyoshi Nakatsuru is also returning from the first Digimon anime projects as the new film project's character designer. Kenji Watanabe is designing the Digimon monsters for the new project, as he has done for the previous Digimon projects.[1] In the February 2019 V Jump, released in December 2018, the DigiDestined's designs were shown off.
Bandai announced on March 5, 2019 that the movie would air in Spring 2020.[2] It was also announced the main cast from Digimon Adventure tri. would reprise their roles for the movie.[3]
Release
Last Evolution Kizuna was shown on Japanese theaters starting February 21, 2020. An English-subtitled screening was scheduled for March 25 in the United States[4], but was cancelled due to the COVID-19 pandemic.[5] A dubbed/subbed release was set to release direct-to-video on July 7, 2020[6] but was delayed indefinitely on May 9 due to a production delay.[7] Last Evolution Kizuna will be released in Japan on DVD and Blu-Ray on September 2, 2020, and will include a Drama CD.[8] The dubbed/subbed version will release digitally on September 29, 2020, and on Blu-Ray/DVD on October 6, 2020.[9]
Related media
OVA
Novelizations
Credits
Cast
Japanese
American English
All voices actors are sourced to the Anime News Network, unless stated otherwise.
Gallery
Promotional art
Featured characters
(Numbers indicate order of appearance. Bolded characters are fought by the protagonist(s), and italicized characters feature non-explicitly, e.g. voice, silhouette, image.)
Digivolutions
(Number indicates order of occurrence.)
Notes
↑ 【公式】デジモンアドベンチャー LAST EVOLUTION 絆 (@Digi_advntr20th) 【2020年初春】 「劇場版デジモンアドベンチャー(仮題)」 超ティザービジュアルを公開!! キャラクターデザイン・中鶴勝祥が、映画のある1シーンをイメージして切り取ったイラストです。 この太一とアグモンの姿を公開まで覚えていてください。 http://digimon-adventure.net/ #デジモン 2019-03-05 Tweet.
↑ Twitter: "Digimon Adventure: Last Evolution Kizuna is coming to Blu-Ray & DVD on July 7th via @ShoutFactory! Available soon in both English dub and Japanese w/ English sub! #DigimonKizuna"
↑ Animenewsnetwork: "Shout! Factory Delays Release of Digimon Adventure: Last Evolution Kizuna Anime Film"
↑ Crunchyroll: "Digimon Adventure: Last Evolution Kizuna DVD/Blu-ray to Come with Newly-recorded Drama CD"
↑ Toei Animation @ToeiAnimation. "JUST ANNOUNCED: The 20th Anniversary film, DIGIMON ADVENTURE: LAST EVOLUTION KIZUNA, will arrive in North America for Digital Download on September 29 & on Blu-ray/DVD from @ShoutFactory on October 6! In both English dub & sub! #DigimonKizuna #DigimonAdventureLEK #Digimon" July 7, 2020, 16:13 PM. Tweet.
↑ 11.0 11.1 jeffnimoy (@jeffnimoy) "I can finally announce that I return to the Digimon franchise to voice Tentomon, Kabuterimon, and Young Genai, and I adapted the script into English as well. I did not voice direct. Hope you fans love it as much as I loved working on it!" April 20, 2020, 18:31 PM. Instagram.
↑ 12.0 12.1 Derek Stephen Prince: "I was extremely excited, it was like a little reunion going back and being able to do not only Veemon and Ken but also ExVeemon and they even had me do DemiVeemon." May 24, 2020, Twitch.
↑ Christopher Swindle @Swindletopher. [https://twitter.com/Swindletopher/status/1285346779102195712 "Looking forward to joining #Digimon Adventure: Last Evolution Kizuna as Hawkmon / Aquilamon on Sept 29th. :) #DigimonAdventureLastEvolutionKizuna"] July 20, 2020, 23:52 PM. Tweet.
Community content is available under
CC-BY-SA
unless otherwise noted.