The DigiDestined worked together and succeeded in defeating Ultimate Digimon Orochimon. However, a mysterious countdown begins. To save Tokyo, they must prevent it from reaching zero.
Summary
Featured Characters
(Numbers indicate order of appearance. Bolded characters are fought by the protagonist(s), and italicized characters feature non-explicitly, e.g. voice, silhouette, image.)
Digivolutions
DigiAnalyzer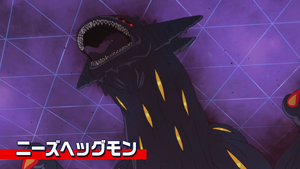 Nidhoggmon
Digimon Encyclopedia
Togemon
Level:
Champion
Type:
Plant
Attack:
Prickly Bang-bang
Togemon. This Digimon evolves from Palmon. The Prickly Bang-Bang move shoots prickly, hard needles from the body like bullets!
Other notes