Biyomon is Sora Takenouchi's Partner in Digimon Adventure:.
Appearance
Description
Fiction
Other Forms
Yokomon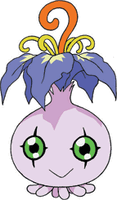 Yokomon is Biyomon's In-Training form.[2]

| | |
| --- | --- |
| Birdramon | |
Garudamon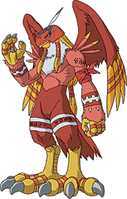 Garudamon is Biyomon's Ultimate form.

Phoenixmon
Phoenixmon is Biyomon's Mega form.
In the past Phoenixmon was part of the Holy Digimon Army that fought against the Dark Digimon Army. The only survivors were six Digi-Eggs, implied to belong to Phoenixmon, MetalGarurumon, HerculesKabuterimon, WarGreymon, Rosemon, and Vikemon. The Holy Digimon

Merchandise
Shodo Garudamon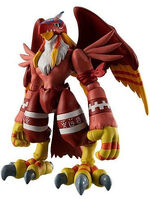 Notes and references
Community content is available under
CC-BY-SA
unless otherwise noted.