Alphamon is a Royal Knight in Digimon Story: Cyber Sleuth.
Appearance
Description
Alphamon is able to summon the Ouryuken Sword and use Blade of the Dragon King without having to become Alphamon Ouryuken.
Fiction
Other Forms
Kyoko Kuremi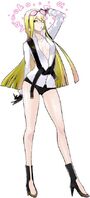 After Kyoko Kuremi had her mental data absorbed by an Eater, Alphamon took over her body to able to move in the Real World. Posing as Kyoko's, Alphamon runs the Kuremi Detective Agency.
Sports car
When posing as Kyoko, Alphamon drives an imported[1] black Alfa Romeo Montreal-like sports car with golden borders and mirrors, two doors, red under lights, golden sun design on the wheels, and golden circuit design on the hood connected to a golden sword design. The car's color scheme resembles Alphamon's body.
When going to Cyberspace EDEN to rescue Aiba, Nokia, and Yuuko, the car merges with Kyoko's body, allowing her to become Alphamon again.

Notes and references
↑

The car's wheel is in the left while Japanese cars have wheels in the right.