Agumon is Taichi Yagami's Partner in Digimon Adventure:.
Appearance
Description
Attacks
Baby Flame: Spits flame breath from its mouth to attack the opponent.
Fiction
Other Forms
Botamon

Botamon is Agumon's Fresh form. Mikakunin Hikousen (Opening)

Botamon appears when Agumon digivolves to Greymon. Birdramon Soars


Koromon

Koromon is Agumon's In-Training form.[2]

After Taichi Yagami is transported to the Network he spots an injured Koromon flung away after being attacked. Disregarding the risk to himself, Taichi leaps out to catch Koromon as they fall. The Crest of Courage shines, and Koromon digivolves to Agumon as Taichi obtains a Digivice:. Tokyo Digital Crisis

Koromon appears when Agumon digivolves to Greymon. Birdramon Soars


Greymon

Greymon is Agumon's Champion form.[3]

After he is injured by Argomon's Champion form, Agumon digivolves to Greymon and then defeats Argomon, which stops the trains from colliding. Tokyo Digital Crisis

Attacks

Mega Flame: Spews ultra-high-temperature flames or a flame shot from its mouth to reduce everything to ashes.




MetalGreymon

MetalGreymon is Agumon's Ultimate form.

During the fight against MetalTyrannomon, Greymon digivolved to MetalGreymon and defeated it. The Steel-Solid Super Evolution


Attacks




WarGreymon

WarGreymon is Agumon's Mega form.

In the past WarGreymon was part of the Holy Digimon Army that fought against the Dark Digimon Army. The only survivors were six Digi-Eggs, implied to belong to Phoenixmon, MetalGarurumon, HerculesKabuterimon, WarGreymon, Rosemon, and Vikemon. The Holy Digimon


Omnimon



Merchandise
Shodo WarGreymon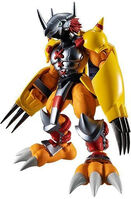 Notes and references
Community content is available under
CC-BY-SA
unless otherwise noted.