A Great UFO-Dragon Gathering! Ekakimon of Dreams

海底大冒険!夢の財宝デジモンを探せ!
(Yūfō Kyouryūdaishūgou! Yume no Ekakimon)

Airdate
(Ja:) February 5, 2012
Animation
studio

Toei Animation
Synopsis
Featured Characters
(Numbers indicate order of appearance. Bolded characters are fought by the protagonist(s), and italicized characters feature non-explicitly, e.g. voice, silhouette, image.)
DigiAnalyzer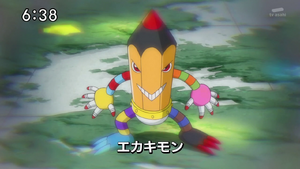 Ekakimon
Digimon Introduction Corner
Ekakimon
Type: Mutant
Special Moves
Colorful Change
Mini Mini
Ekakikaki
Old Clock Shop Man: "something"
Clockmon: "something"
Tagiru Akashi: "Alright! DigiXros with ShimaUnimon! DigiXros!"
ShimaEkakimon: "I don't have most of my colors. Please bring back my colorful body!"
Gumdramon: "Now it's just a regular pencil."
Digivolutions
(Number indicates order of occurrence.)

Quotes
Other notes
Animation errors
The first shot of the school swimming pool shows 7 starting blocks per end, before reverting back to its original design of 6 blocks.
Community content is available under
CC-BY-SA
unless otherwise noted.